ASIC Cooling System
We have developed a modular system of ASIC Data Center Units. Our ASIC Data Center Units are based on standard ISO (sea) containers, equipped with ASIC hardware, remote control capabilities and an immersion cooling system that improves the system's total energy consumption on the one side and increases the total hashing power on the other hand. Altogether it's a high-tech solution that can be seamlessly deployed globally and allows us to use the cheapest energy mix fully independent of the data center location.
In our patented two-circuit immersion cooling system, electronic components are submerged into a bath of dielectric heat transfer liquids, which are much better heat conductors than air. 

Hardware placed into an immersion cooling system benefits from lower junction temperatures and improved performance, no temperature swings or hot spots, and generally runs more reliable. Since the cooling system is passive and not attached to the hardware, there are no unnecessary parts to build or service.


Advantages of immersion cooling
Higher efficiency and energy savings (>40% overall electricity savings)
Reduced capital and operational expenses
Improved performance
Improved hardware reliability
Works in confined spaces and extreme environments (hot & humid etc).
Reduced environmental impact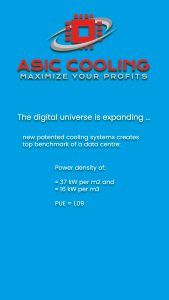 Contact Form